SUPPORTING BREED EDUCATION AND RESEARCH
THROUGH PHILANTHROPY

Richard Fath (France 1900-1952) was a noted French artist whose specialty was depicting various breeds of dogs. At least two of his more notable works depicted the Epagneul Breton. The first is a full body bronze of an Epagneul Breton and is perhaps the most famous artistic artifact in the breed history. The second is a head study done on a terra cotta plaque which is photographically reproduced and shown here in two views.
The original piece was completed by Fath in France during the 1940s. The size of the original terra cotta plaque is 5 6/8 inches square. It was exhibited for a period of time by the William Secord Gallery in New York City and was eventually sold to a private collection. Because of the high quality of interpretation of the subject and the historical significance of this work by the esteemed French artist, The Epagneul Breton Foundation Inc., board of trustees chose to incorporate this depiction of the Epagneul Breton into the foundation emblem, giving full credit to the artist.
Featured Art - January 2016
The Epagneul Breton Foundation, Inc., intends to display artwork in its gallery to inform enthusiasts of the breed about historic and contemporary art and artists. Pieces of art will be featured here periodically and then displayed in its online gallery.
Please contact us to suggest or submit additional items for display.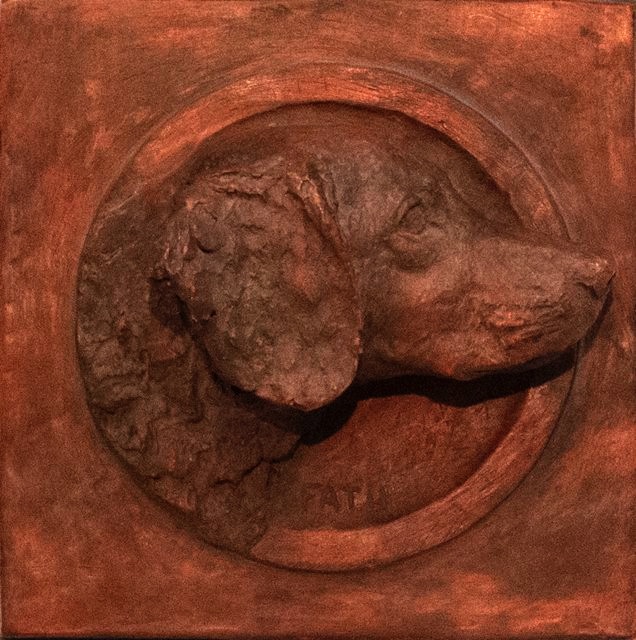 Images courtesy of M. William Secord of The William Secord Art Gallery, New York City